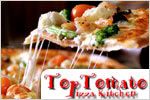 Eversave
works on the same concept as Groupon where you can find at least 50% savings on local services to your city, but the best part is it stepped up from Groupon and is offering a $5 sign up cash that you can use immediately on your first purchase just like ebates.
So today I ordered a $15 certificate for Top Tomato Pizza Kitchen in Philadelphia for $2.50. The deal was 50% off but then with the $5 sign on bonus I paid $2.50. Now thats a great deal!
Thanks Kristen
Oh I thought I'd update you and tell you I just brought the
Groupon deal
for El Sarape (Mexican Food) in Horsham (Philadelphia) for $30 worth of food for $15. I love Mexican fare! Kristen and I are going to make it out there for one of our Girls Night Out.