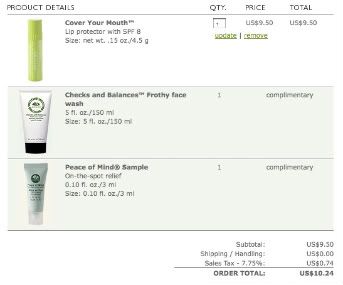 Origins is offering up a VERY sweet deal! Through 8/23 (next Monday), they are offering up a FREE full-size Checks and Balances Frothy face wash ($18.50 value) + FREE shipping with ANY order. Just use coupon code MYGIFT at checkout. Plus, you'll get to choose between 2 FREE samples when you place your order.
Suggest Deal Scenario:
- In Ebates search for Origins
- A tracking ticket will be made taking you to Origins website
- Purchase the Cover Your Mouth Lip Protector for $9.50 (this seems to be the least expensive item)
- Start the checkout process
- Choose a FREE sample
- Enter offer code MYGIFT in the box provided
- Your final cost will ONLY be $9.50 (+ tax) shipped… and that's for almost $30 worth of products!
- You'll get $5 cash back from ebates if you are a first sign up + 5.5% cashback
- For those who already have an ebates account you'll get back 5.5% cashback
FINAL PRICE for new ebates customers = $3.98 + tax shipped
FINAL PRICE for current ebates customers = $8.98 + tax shipped
What an awesome deal