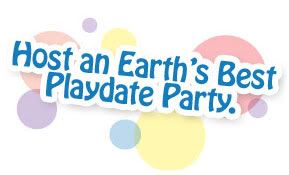 I love hosting parties for free. I use
Houseparty.com
and will be hosting a Thai Kitchen Houseparty in September and I'm hoping to score a free one through
Psst Generals Mills
too.
Well Earth's Best is looking for parents who are passionate about providing what's best for their babies and will help spread the word about Earth's Best products! If you qualify they would like you to introduce your friends and family to all the Earth's Best family has to offer by sponsoring a Playdate Party!
Here's how to apply:
1.Complete a simple survey to see if you qualify to host a party. A qualifying notification email will be sent in approximately a week.
2.If qualified, you will receive access to the Playdate Parties Invitation Manager to email 9 party invitations to friends and family.
3.When 7 friends accept your invitation an Earth's Best Playdate Party Pack will be shipped to you at the address provided in your registration.
Here's what you will get.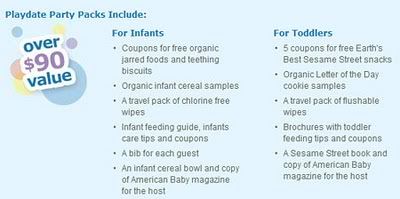 Though they will not be able to sponsor a Playdate Party for each and every parent who submits, they will thank you for taking the time to complete the form with coupons and a chance to win $500 in Earth's Best product.