I am a firm believer of karma. Read my cool karma story here...
Sonya from
Belly Charms
and
Vital ID's
is one of the sponsors of my
Blogmania
giveaway with her Sport ID products. Sonya was kind enough to send me 2 Sport ID's for us to review too.
I was touched by her kindness and asked if there was anything I could do to promote her blog and products (thats what you do in the blog world - help each other out). Sonya mentioned
The Shabby Vanity
was offering a blog makeover giveaway as a fundraiser for her sister Sandi who is battling brain cancer and that she had low entries. I was touched by Sandi's cancer's battle and I ended up donating to the fundraiser as entries to the blog makeover giveaway and
tweeting
the giveaway to help promote awareness.
Long story short - I won the blog makeover today - YAY for great karma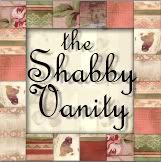 I'm excited for the makeover and now I have a lot of decisions to make. Comment if there are any new buttons you think I need or any design aspects you would like to see. Keep posted for the new blog makeover.

Check out Sonya's cool Belly Charms and Vital ID's products
and also The Shabby Vanity for your blog needs.


Sonya has a new fundraiser giveaway kindly donated by Gina from PRParkeronline for Blogmania 2011. The winner will get a free spot on the Blogmania 2011 Dream Team. Check it out here. Its a win win - great fundraiser cause and a great prize.