Saturday will be a busy day for the kids and I. Hubby is away on a business trip so the kids and I are on a playdate with a friend and traveling all around to the following free events. We're so excited!
10am
- attending a
Lowe's Build and Grow clinic
to make a free wooden project. Each participant will also receive a free apron, goggles, a project themed patch, and a certification of merit upon completion of their project. Also, each participant will get a coupon for a Free Wendy's Jr. Frosty too.
August 14th - make a free bug box
12PM
- Head to Wendy's for lunch to use our free Wendy's Jr. Frosty from the Lowe's Clinic
1PM Then we're heading to the mall to the Disney Store to
Make a Perry the Platypus Inaction Figure. Minimum age for participation is 3 years. Event subject to change or cancellation without notice.
Call your local store
to confirm participation. While supplies last.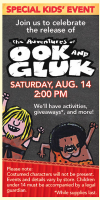 WOW - luckily all the stores are close, we'll see if we can make all 4 stops. My kids will hopefully pass out nicely on the drive home ; )
Free activites we won't be going to due to tight schedule above ; )
From 11-4,
select Walmart Stores
will be celebrating Dora's 10th birthday. When you arrive at Walmart, head over to join the adventure at the Bright Ideas event station in Toys, where you'll snag party favors like cupcakes and a free 5×7 photo card with Dora in her special birthday dress. Click
here
for more information and for a list of participating stores.