Welcome to my
Blogmania Sponsor
feature for
Jari Love
- Workout DVD's
With two little ones and our busy work schedules I cannot join a gym as I have so much to do before and after work. Once I put the kids down to bed then I can start my workouts, so working out at home is my best option as I do not need to waste time driving somewhere and I can do it all in the comfort of my own home.
While searching for workout motivation online I came across Jari Love and was intrigued by her workout DVD's. Sometimes working out alone doesn't cut it as you skimp back on the pushups or you stop after 15 minutes and bolt for the fridge. Well looking at Ms Jari Love here you'll be motivated to keep at the whole hour of workout. While we all aspire to look so trim and buff, many will never achieve this in our wildest dreams, however, we can at least try to keep fit and healthy for our family. I find variety is the spice of life. I like to mix my workouts up, the elliptical one night, boot camp another, a break and then DVD another. This way you work all your muscles and you don't get bored or stuck in a rut.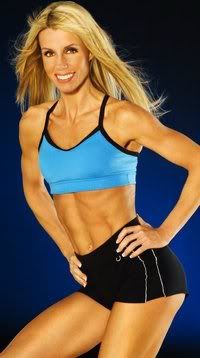 Jari Love is a certified personal trainer and the creator of Get RIPPED!™, the multiphase, no-nonsense fully body workout system designed to help people of any fitness level shed unwanted pounds in just weeks. While I was not able to provide a personal review of the DVD's before the Blogmania event due to the Canadian mail system ; ) Jari and her workouts have received rave reviews and the accolades from fitness critics continue to pile. Check out Jari's fitness DVD's
here
and motivate yourself to shed some unwanted pounds. For Canadian residents Jari has her own Boot Camps - check them out
here
.
Jari Love is a sponsor for The Fitness Prize Pack for my Blogmania event
where one lucky winner will receive the Body Rock and Get Ripped 1000 DVD's.
All you have to do for a shot at winning is come back here September 15-16th, during Blogmania, and enter by leaving a comment on the Blogmania post, so MARK YOUR CALENDARS!
Would you like early entries to the giveaway? If so, complete any of the following:
Please note you must also enter the giveaway during the Blogmania event to validate your early entries
HOW TO ENTER
Visit
Jari Love
and comment below telling me which DVD you would like to try?
(Complete any of the following and fill out separate comments for each addictional entry)

- Follow the Freebie Junkie on Google Friend Connect
- Like me on Facebook (
Addicted to Freebies
) and make a comment "I entered the Jari Love early entry giveaway here http://bit.ly/cOPfSA"
-
Email subscribe
to my blog (must be activated)
- Follow me on Twitter (
Freebiealerts
) and tweet "I entered the Jari Love early entry giveaway here
http://bit.ly/cOPfSA
#Giveaway"
- Vote for me on
Top Mommy Blogs
The early entries will close on Sunday September 12th, 2010 10 pm EST and resume back on Wednesday September 15-16th for the full Blogmania event. Open to US and Canadian residents only.

Disclosure: A sample product was provided to me in exchange for my honest review. The opinions and thoughts expressed are my own. I received no other compensation for my review nor was I under any obligation to give a positive review.