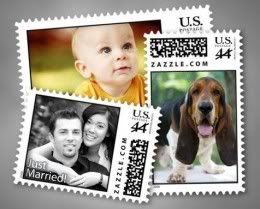 Its a last minute deal thats only for TODAY but check it out (less than 2 hours to buy and counting)
I just ordered mine - can't wait to make the customized stamps for my Christmas cards!
You can get customized photo postage stamps for 39 cents saving you 5 cents from the regular price of 44 cents. There's never a discount on stamps and its great for the Holidays - your family will get a kick out of the custom picture stamps you can make.
TODAY ONLY 9/6, the
Groupon
for Sioux Falls is a $50 certificate to Zazzle for only $25. You can get photo stamps on Zazzle so here is how to get a GREAT deal on photo stamps:
Go to
Groupon
and select Sioux Falls for the city and buy the Zazzle Groupon (you will need to buy the Groupon today but you can use the Zazzle gift certificate tommorow or later when you have time to download pics) .
Tomorrow or later, go to
ShopatHome
and sign-up or log-in
Search Zazzle and a tracking ticket will take you to Zazzle.com where it shows 14% back
Create an account (or sign in)
Upload your picture
Purchase 3 packs of 20 stamps @ $17.95 each (+ $2.99 s/h) = $56.84
Enter your Groupon coupon code to take off $50 and pay $6.84
Then you will get 14% of your purchase back from ShopatHome ($7.95)
That makes it only $23.89 for 60 stamps which is 39¢ per stamp
Oh I forgot if you are new to ShopatHome like I am you get $5 upon sign up, which takes it to 32 cents per stamp - woot woot!!
Thanks
Whosaidnothinginlifeisfree