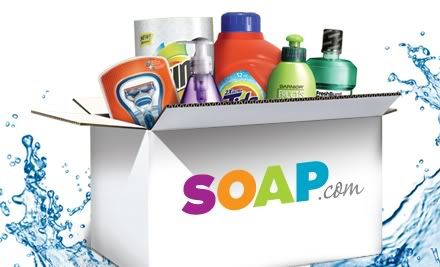 Update: you can trying using the referral code DANA8625 during checkout at Soap.com to get 20% off - again not sure if it will stack at checkout with the Groupon ecertificate but I'll let you know tommorow when I order my toilet paper ; )
Hip2save
mentioned that Brooklyn's
Groupon
has a $20 gift certificate for Soap.com for $10 plus free shipping is included. I'm sad to say my toilet paper stash has run dry and I have not seen any good deals so I brought the Soap.com Groupon and will get my toilet paper for half price and Free Ship!
To get in on this deal sign up for
Groupon
and search for Brooklyn as the city. Buy the certificate for $10 and you will get the ecertificate in your account instantaneously (but you won't be able to use it till tommorow). The best part is you can be super smart and stack the deal with
ebates
- currently ebates is offering 1-5.5% back when you log into Soap.com via ebates! If you are a new customer of
ebates
you'll get $5 cashback too! Oh my - I'm so in on this deal! So after you get your Soap.com ecertificate sign into ebates and then go to Soap.com to get some cashback.
Soap.com has More than 25,000 products and upward of 900 brands make the site a one-stop resource so I'm sure you'll find something that never has a coupon or a deal to buy! plus shipping is free.
I found a code for 15% off first order: SOAPSPLASH (limited time) not sure if you can stack codes but worth the try. Oh and I just figured you can stack this deal with the
JnJ $10/$30 rebate deal
to score $30 worth of product for $10 or $5 if you are new to ebates. Oh my what are you waiting for.
If you are not in need of toiletries then I would suggest signing up anyway as I had an old Groupon account that I forgot about signing up for under a different email account and I got an email the other day that they were giving me a code for $10 off my first Groupon purchase. So in this account I'm getting free toiletries - yay!!!