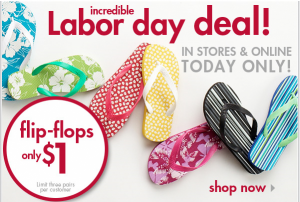 Wow - hurry to get on this deal - its only good for today - better late than never right.
Fashion Bug Flip Flops are only $1, if you order online and choose in-store pick up you get free shipping!
Follow this scenario to see how you can get them for free and make money off it.
Once signed in search for Fashion Bug
A tracking ticket will generate and then take you to the Fashion Bug website
Search for the $1 Flip Flops (there is a link on the right hand side)
Ship to your local store to get free shipping
Total paid at checkout is $1
You'll get $5 cashback via
ebates
upon first sign up*
PLUS get 2.5% cashback via ebates**
Total out of pocket after ebates = $4.02 moneymaker

* new account holders of ebates get a $5 sign on bonus
** after $5.01 accural your ebates check will be sent to you during the next quarterly payment schedule.
Can't beat that!
Don't forget to check out my
article on other cash back sites
- if you already have an ebates account there are plenty more that will give you cashback bonus on first sign up and a great % back. I love these cashback sites.
Thanks
Mojosavings