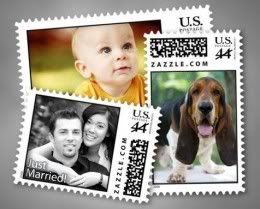 The Zazzle deal via Groupon is back!!!!! yay
Its a n awesome deal for Photo stamps thats only for TODAY but check it out. There's never a discount on stamps and its great for the Holidays - your family will get a kick out of the custom picture stamps you can make.
TODAY ONLY 9/9, the
Groupon
for Seattle (Its a side deal located at bottom right hand side) is a $50 certificate to Zazzle for only $25. You can get photo stamps on Zazzle so here is how to get a GREAT deal on photo stamps:
Go to
Groupon
and select the Seattle side deal and buy the Zazzle Groupon (you will need to buy the Groupon today but you can use the Zazzle gift certificate tommorow or later when you have time to download pics) .
Tomorrow or later when the Groupon certificate shows up, go to
ShopatHome
and sign-up or log-in
Search Zazzle and a tracking ticket will take you to Zazzle.com where it shows 14% back
Create an account (or sign in)
Upload your picture
Purchase 3 packs of 20 stamps = around $53.85
Use coupon code SEPTFREESHIP to get free shipping (valid till Sep 15th)
Enter your Groupon coupon code to take off $50 and pay $3.85
Then you will get 14% of your purchase back from ShopatHome ($7.54)
That makes it only $21.31 for 60 stamps which is 36¢ per stamp*
after the Groupon Voucher, then your cash back will be $0.54…making the cost of each stamp $0.47 (still a good deal for custom photo stamps)
Thanks
Hip2save