I hosted a Thai Kitchen House party on Sunday courtesy of
HouseParty.com
- they sent me a box full of goodies to help me on my way.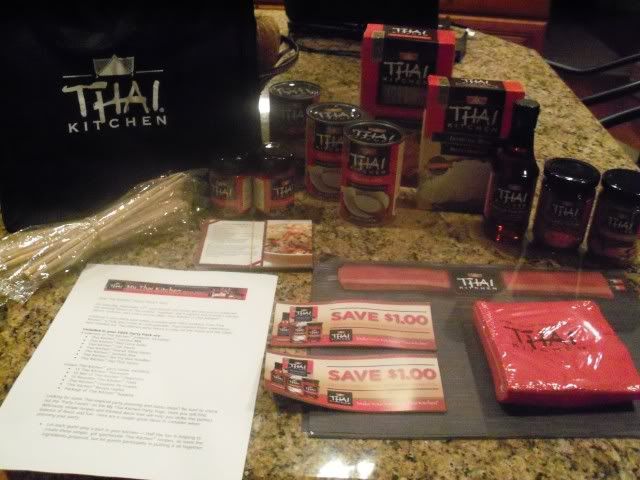 I was so excited to participate as we all love eating at our favorite Thai restaurant. I've made Thai food before at home but not with Thai Kitchen products. My guests and family were in for a treat.
I was amazed at how simple and easy it was to make delicious Thai food using Thai Kitchen products.
I served the following for the party:
Thai Egg rolls
Red Curry Shrimp
Chicken Satay with Peanut Dipping Sauce
Thai Jasmine White Rice
Here are some of the recipes:
Thai Red Curry Shrimp and Vegetables
• 1 14oz cans Thai Kitchen® Coconut Milk
• 2 tbsp Thai Kitchen® Red Curry Paste
• 1 tbsp brown sugar
• 1 lbs large shrimp, peeled and deveined
• 1 cups assorted vegetables, such as snap peas,
bamboo shoots and sliced red bell pepper
• 2 tbsp Thai Kitchen® Premium Fish Sauce
• Fresh red chiles, thinly sliced (optional)
• 1/4 cup fresh Thai basil (optional)
Bring coconut milk to simmer in large skillet on medium heat. Stir in curry paste and sugar
until well blended; bring to boil. Reduce heat to low; simmer 5 minutes.
Stir in shrimp and vegetables. Cook 5 to 7 minutes or just until shrimp turn pink and vegetables are tender-crisp. Stir in Fish sauce.
Serve with cooked Thai Kitchen® Jasmine Rice. Garnish with Thai basil and red chile slices, if desired.
Makes 4 servings.
Chicken Satay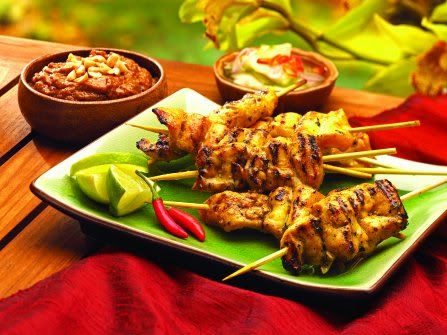 • ½ cup Thai Kitchen® Coconut Milk
• 2 tbsp Thai Kitchen® Red Curry Paste
• 2 tbsp Thai Kitchen® Premium Fish Sauce
• 2 tsp Minced Fresh Lemongrass
• 1 lbs Chicken Breast, cut into ½ to ¾ inch strips
Combine the first 4 ingredients in a plastic bag and add chicken strips. Seal bag and toss to
coat. Cover with the marinade and refrigerate 1 hours or overnight
Skewer the chicken and grill over medium high heat for 2 to 3 minutes per side, until cooked through. The marinade will be thick and just enough to cover chicken.
Serve with Thai Kitchen® Peanut Satay Sauce for dipping
Test Kitchen Tip: Be sure to soak the bamboo skewers for at least half an hour in water, or overnight.
Doesn't that make your mouth water!
Sign up for
HouseParty.com
to host a fun free event for you and your friends.