My husband and I like to take the kids to a variety of different restaurants as special treats and plainly because there's so much Italian food we can take (we live in the Philly suburbs). When we ask the kids where they want to go its always a toss up between Mexican, Sushi or Thai. My friends and I often head to the local Mexican restaurant for a Mommy play date - oops I meant kids playdate. On our last trip the row of brightly colored bottles in the refridgerator caught my 5 year old sons attention and he had to try the orange colored drink which turned out to be Jarritos Mandarin Soda - orange is his favorite color. We eventually settled for a non carbonated drink as soda is not on the agenda for him yet.
I was sent a sampler box of Jarritos for our review, as you can see from the picture, each of the 11 different flavored soda has a vibrant color. I could have just left them on my window sill as decoration but they said "drink me" and so we did. We tried the Mandarin flavor soda, I was pleasantly surprised by the "real soda taste" - it was less carbonated and more sweet and syrupy than a typical soda of today which is attributed to the 100% cane sugar added (not corn syrup). It reminded me of the Coke we used to drink as kids.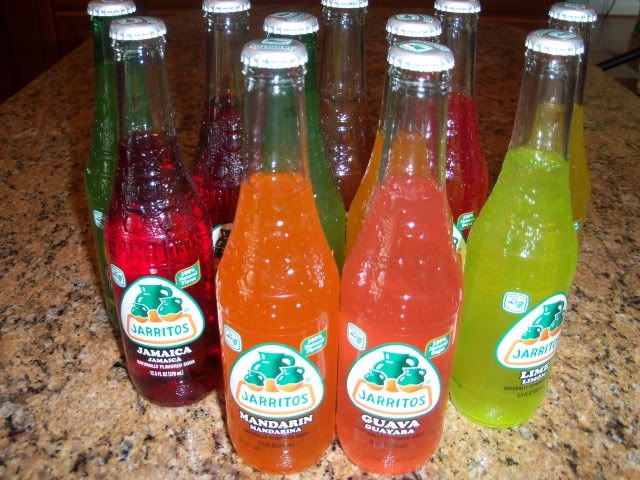 I would say our favorite top 3 was the Mandarin followed by the Lime and then Guava. If I put my Mom hat on I would say if the Jarritos contained 100% fruit juice I would rank this up there - however, I think these would be great as a mixer for those Mommy date drinks.
Check out your local Mexican restaurant or the international section of your local grocery store - you'll be in for a sweet and eye pleasing surprise.
In the meantime, check out the
Jarritos Nation contest
! It's a website designed to bring all fans of Jarritos together and award prizes for posting photos. Entering is very easy – just head to
http://www.jarritosnation.com/
and "claim" a location on the map with a photo. Prizes range from packages of Jarritos to digital cameras and even a 12 day cruise to Hawaii! Contest ends 12/31/10 - You have to be in it to win it - Good luck!
Disclaimer: I was provided a sampler pack for my honest review (other peoples opinions may vary).