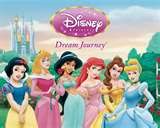 My daughter loves anything Princess, even the bedtime stories have to be Princess related. For the last two years she has dressed up as Snow White for Halloween, if I say so myself I think she makes a fine Snow White, but this year I was determined to get her to be something other than Snow White.
I had my hopes on my daughter being Jasmine this year but she looked me in the eyes and said "Mommy I don't want my belly button showing", I'll kindly remind her of this when she is a teenager ; ) so we compromised and settled on Belle. So I automatically searched online at the Disney Store. The choices were not great, the Limited Edition Belle was $149.50 (yes are you thinking what I'm thinking - you must be crazy?) and the other Belle dress ($39.50) just didn't jump out as Belle for my little Belle.
My eyes popped when I saw the great online prices at
Wholesale Costume Club
. After I searched for
girls dresses
I couldn't believe the large number of choices available and how awesome the selection was. This
Disney Belle dress
below is only $18.98 and if you are a member it comes down to $11.96 ($5 annual membership fee). This dress certainly beats the two dresses from the online Disney Store hands down.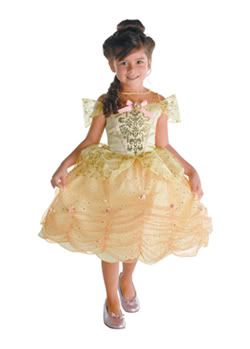 We decided to upgrade to the
deluxe Disney Belle dress
below ($37.98 for non members and $32.96 for members) since it screamed Belle to me and it came with the cute headband. This dress is so well made, I'm sure next halloween I'll have a hard time convincing her to switch to Jasmine. Right now my little one is admiring her beautiful dress and has the biggest grin you've ever seen.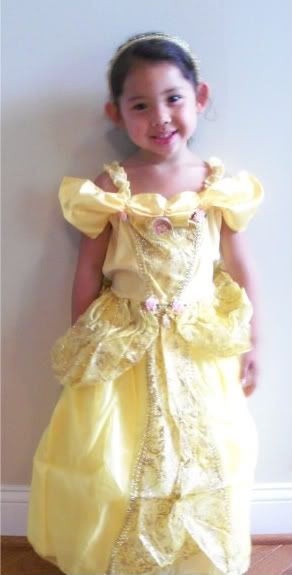 If you are looking for authentic costumes at wholesale prices without having to buy in bulk
Wholesale Costume Club
is for you. I think we'll be looking into adding the $5 membership as my son loves to dress up too. During playdates we often see little Princesses having tea with Superheroes.
Disclaimer: I did not receive any monetary compensation for this review and this is written based on my own honest opinion (other people opinions may vary). Wholesale Costume Club provided me the product to be reviewed but it does not affect my review and opinion on the products discussed herein.