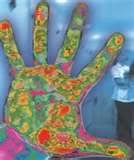 We love hosting playdates at our house, not only is it a way for the kids to have their friends over but its the Mommy's fun time too. With the Fall here, the weather changes are wreaking havoc on the kids immune system. Both my children have been in daycare since they were tiny and have strong immune systems compared to other kids but it doesn't mean my little ones do not get sick. My daughter just passed on her cold to her brother and I'm sure it will make its way to us soon as they both haven't quite grasped the cover your mouth when you sneeze concept.
While hand sanitizers are not a substitute for washing your hands with soap and water, they are a great alternative when you can't get to a bathroom. When we are out and about I carry an antibacterial lotion in my purse, I use this when we cannot reach the bathrooms. But I'm not fond of them as many contain alcohol. We all have sensitive dry skin and the alcohol dries our hands out. Plus there is the risk of ingestion of alcohol if you use too much just before you eat - even a small dab of Purell on my hands feel like I've just bathed in alcohol. So when
Bio Shield Technologies
approached me to review their
HandClens Alcohol Free Foaming Sanitizer and Lotion
I was intrigued.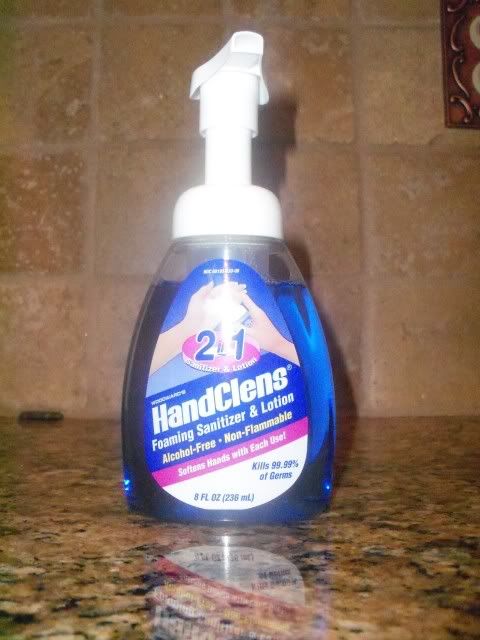 I personally like foaming washes so the foaming sanitizer is a refreshing change to the sanitizers currently on the market. I put the foaming sanitizer to work and one full pump felt like a lot of liquid after I rubbed my hands together but then it slowly disappeared leaving my hands dry and feeling soft with a fragrance - although I'm not a fan of smells on products but I could not smell alcohol on my hands so thumbs up. For small kids I recommend a small push of the pump. I can't believe how soft my hands feel - you have to try it to believe it.
BUY IT
An 8.0 oz HandClens Alcohol Free Foaming Sanitizer and Lotion costs $7.50
here
This is double the cost compared to Purell but if you factor in the non alcohol content and added bonus of having soft skin then I think its worth it.
There is a
color and fragrance free HandClens
so thats good to know and I particularly like the
1.7 oz size foaming pump
which would be great for my purse.
WIN IT
Bio Shield Technologies
has kindly offered a freebie Junkie Reader their own HandClens Foaming Sanitizer & Lotion
Here's how to enter:
Mandatory
Make a comment stating how you will try to stay healthy this flu season?
Extra Entries
Follow me on Twitter (
Freebiealerts
) and tweet "I entered the HandClens giveaway here
http://bit.ly/bAU4YZ
#giveaway"
Please make a separate comment for each entry and make sure there is a way for me to contact you if you win.
Giveaway ends on Friday October 1st, 2010 @ 10 pm EST. Winners will be chosen via random.org. The winner will receive an email notifying them that they won. If I do not receive a response within 48 hours, another winner will be selected. Open to US residents only.
Disclaimer: I did not receive any form of cash for this review and this is written based on my own honest opinion (other people opinions may vary). I was provided the product for our personal review but this does not affect my review and opinion of the product.