I'm always on the lookout for fun crafty projects for the kids. I cleared out some cabinet space in my kitchen so the kids can store their arts and crafts and currently its jammed packed with crayons, coloring books, play doh and nick nacks and they are always rummaging in there for things to do at the kitchen table while I'm cooking. One of their favorite past times is play doh. They have all the gadgets that enable them to make shapes and icecream swirls, so when I was given the opportunity to review
Yummy Dough
it was a no brainer. Yummy Dough is an edible play dough from
PlaSmart Inc.
The Yummy Dough box came with 4 Yummy Dough Mix (Red, Yellow, Green & Blue), measuring device, modelling tool and a brochure with Tips and Tricks.
First we washed our hands throroughly aand also cleaned our work space too. I made each dough by mixing the dough mix with 20mL of water using the measuring device. My kids helped mix initially and I finished off the mixing to get the dough to a modelling clay consistency. The kids eyes lit up when they saw that the white flour turned a different color when the water was added.

Then I let the kids create whatever they wanted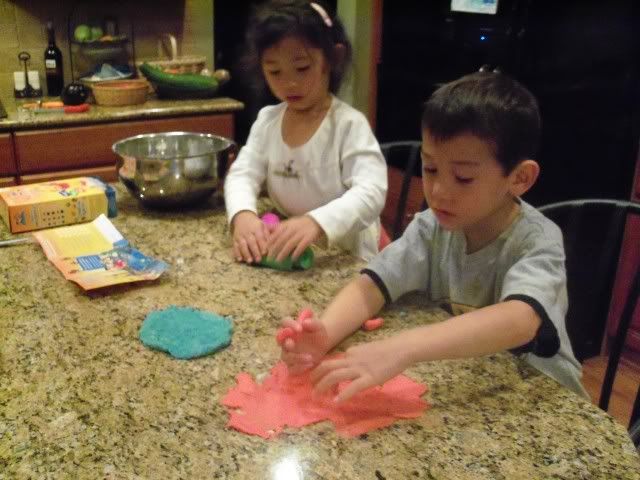 This is what they came up with (with my help): Pizzas, butterfly, microphones, flower, purple cookies, snails and snakes
The box had clear instructions and I loved how you can make other colors by mixing certain color together. The kids loved making purple cookies and now know you can get purple by mixing red and blue together.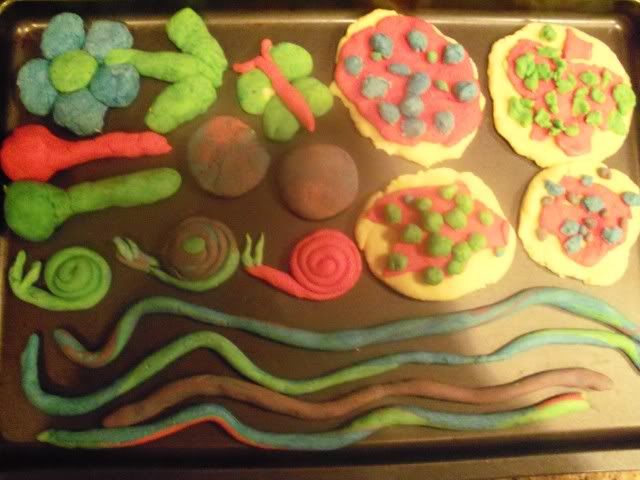 This picture above was taken after cooking. The dough didn't rise so much like a cake but it did plump up a bit. Since our dough pieces were thicker I let it bake in the oven for 20 minutes.
We tasted the baked dough and decided it tasted like a cross between a cookie and a cake - my kids came up with cookie cake. It wasn't too sweet and the instructions stated you had to bake and eat the day it was made - well that wasn't a problem in our household ; )
Yummy Dough has kindly offered a freebie Junkie Reader their own Yummy Dough kit
Here's how to enter:
Mandatory
Make a comment stating what you would like to create with Yummy Dough?
Extra Entries
Please make a separate comment for each entry and mak sure there is a way for me to contact you if you win.
Giveaway ends on Thursday September 30th, 2010 @ 9 pm EST. Winners will be chosen via random.org. The winner will receive an email notifying them that they won. If I do not receive a response within 48 hours, another winner will be selected. Open to US & Canadian residents only.
Disclaimer: I did not receive any form of cash for this review and this is written based on my own honest opinion (other people opinions may vary). I was provided the product for our personal review but this does not affect my review and opinion of the product.