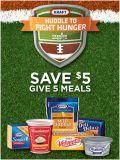 I ran to my Acme this morning to go buy the Kraft Cheese. I picked up 3 packs of Kraft block cheddar and 2 packs of Kraft shredded cheese. They were on sale for $2.29 each not $2 but I am always in need for cheese and $1.45 for 5 packs of cheese is not too shabby for me. The block cheese freeze really well too.
My coupon did beep but not sure whether it was because it was a high value coupon ($5) - the cashier pushed it through after managers key approval.
The best part of this deal is Kraft will then donate 5 meals to Feeding America. Isn't it great to know getting freebies or near freebies helps you to Make a Change to help others. You can have your cake and eat it.
So here's the original information below if you want to follow my deal.
Here's a great Kraft dairy printable - click
here
to print a $5 off any 5 Kraft cheese or dairy products. Mine expires 10/1/10 so a whole month to find or concoct a freebie deal.
PUBLIX FREEBIE DEAL
For those who live near a Publix, tommorow 9/2 you can score 5 Breakstone's Sour Cream as they will go on sale for $1 - how awesome for you!
SHOP N SAVE FREEBIE DEAL
For those with a Shop N Save you can get 5 FREE + $1.66 Money Maker!!
Buy 5 Kraft Cheese @ 3/$5 = $8.34
Pay $3.34 (+tax)
Get $5 Catalina Coupon (wyb 5)
= ALL 5 FREE + $1.66 Money Maker!!
Thanks
Clippin with Carie
ALBERTSON FREEBIE DEAL (I'm hoping my ACME has this deal)
Buy 5 Kraft Brick or Shredded Cheese – $2 ea
Use the $5/5 printable here
Get a $5 Catalina back
= 5 packs of Cheese for Free!!
I'm excited as I love to make mac n cheese and this would be perfect! 5 blocks of free cheese!
OK need a Giant PA or Safeway deal please : )