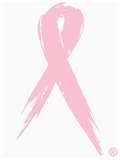 October is a colorful month, with the browns, orange and yellow leaves everywhere it truly is Mother's nature at its best. Pinks also feature heavily in October too - to symbolize Breast Cancer Awareness month. Have you seen your city buildings lit up with pink? Have you seen all the promotional products covered in pink! No other charity is as recognizable than Breast Cancer awareness but yet we still find our mothers, sisters, daughters, friends and even men struck down hard by this disease.
So I'm including this video to spread this proactive message "Early detection is the best prevention". This is a live webcast and shows E! News host Giuliana Rancic and Lindsay Avner, founder of the national breast and ovarian cancer non-profit Bright Pink, "felt themselves up" which is hosted by Orbit White Bubblemint gum
GIVE BACK
As a proud sponsor of this campaign, Orbit White is donating 10 percent of every pack of Orbit White Bubblemint gum sold in September and October, up to $75,000, to
Bright Pink.
Give your friends the best gift - Life - send them this post so they can be informed.

Disclosure: I wrote this review while participating in a campaign contest for MomSelect on behalf of Orbit Gum to share the message. All opinions are of my own.