Chinese New Year is soon upon us - February 3rd this year
We celebrate by handing out little red pockets to my children filled with money (just a few dollars) and we also talk about the Chinese tradition and enjoy it with Chinese fare that I prepare. I also send the kids to school with red pockets to hand to their friends and a fun Chinese New Year craft.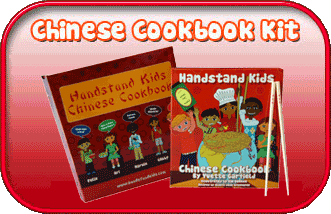 This Chinese New Year broaden your children's experience with a hands on Handstand Kids Chinese Cookbook kit. The
Mamapedia
has a superb deal on the cookbook kit - buy a $30 GC to Handstand Kit for $15 (new members pay ONLY $11 with the coupon code
COUPONCAB4
). So with your $30 GC you can buy a Handstand Kids Chinese Cookbook kit for $25 and perhaps a mitten for $6.95 and pay shipping. I know my children will be excited to try this cookbook.
Deal Scenario
Head to Mamapedia and purchase the $30 Handstand Kids GC for $25
Use Coupon code COUPONCAB4 to get $4 off for new members only
= $11 for a $30 GC for new Mamapedia members
= $15 for a $30 GC for current Mamapedia members
Plus don't forget 5% of your purchase can go to the school of your choice (WIN WIN)
Fine Print:
Redeem voucher online. Not valid towards tax or shipping. Offer expires July 28, 2011. Must be used in full in 1 visit.
Handstand kids offer other kits such as Mexican cookbook kit. Go check them out here,