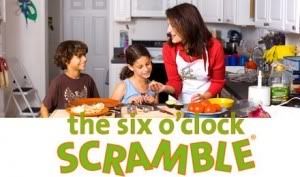 I love cooking but I don't love planning meals. I work, so on my drive at the end of the day to pick the kids up I decide what I'm going to cook. Its not good planning on my behalf but now here are two resources to make my life easier and help me spice up meal times while staying healthy too.
6-month meal plans for as low as $10
Plum District
, a Daily Deal site, is offering a six-month subscription to The Six-O'Clock Scramble menu-planning service for just $15 today. Here's what their site says:
Your subscription includes a weekly menu with five family-tested,

healthy, and delicious dinner recipes. Each recipe has about 10 ingredients or less and takes about 30 minutes or less to prepare.

The Six O'Clock Scramble also includes an organized grocery list with ingredients you'll need for the whole week. As a subscriber, you will have access to a searchable database with hundreds of recipes, be able to create an online recipe box, create your own weekly menus, and view the nutritional information for each meal
If you've not yet signed up with
Plum District
before, you should get a $5 credit added to your account when you sign up. (You may have to wait a few minutes and then log back in for your credit to show up.)
6-month Low fat menu planning subscription for $13
If you're looking for a healthier option,
Mamapedia
is offering a six-month subscription to Relish!, a low-fat menu-planning service, for $17 today. You may be able to use coupon code
FATWALLET4
to get $4 off.