We have two huge Disney fans in our household, they have been long time fans of Mickey Mouse Clubhouse on TV and own a lot of the Disney movie collections. How wonderful that Walt Disney thought to bring Mickey and Minnie to life, so that my son and daughter can enjoy these characters together. Even at 5 and soon to be 4, my children already have ideas on male and female role movies to watch on Movie night Monday. So, instead of battling between Cars and Snow White, Mickey and Minnie is a good compromise.
On February 8th, Walt Disney Studios Home Entertainment will release Mickey Mouse Clubhouse: Minnie's Masquerade on DVD. We were excited to be given the opportunity to review this DVD before the general release.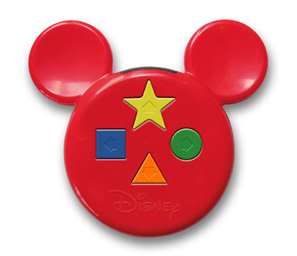 The review copy sent included the DVD and the exclusive Mickey Mote - a child-friendly handheld remote control, shaped like Mickey ears, that enabled my children to interact with the adventures taken by Minnie, Mickey, Donald, Goofy and Daisy. The first episode is a never seen before episode: Minnie's Masquerade, Minnie is having a costume party and the whole Clubhouse gang is invited! At the end of the Masquerade Ball everyone wins a prize! However, before the party begins Minnie needs help setting things up and Sir Goofalot must find his missing shoe. Children are encouraged to join in by pretending to wear their costumes, learn about shapes, friendship, and more! There were 4 other episodes; Minnie's Mouseke-Calender, A surprise for Minnie, Secret Spy Daisy and The Friendship Team previously seen on the Mickey Mouse Clubhouse TV show. The DVD was a hit with the kids especially on a snow day when they would normally be jumping off the walls, the movie interaction with the mickey mote ensured a quiet time was had by all. The DVD also offers a reversible DVD cover & a free paper mask that can be colored and personalized.
Here's a sneak peak for you
BUY IT
This DVD comes just in time for Valentines Day for your little ones. You can pre-order a copy with the Mickey Mote here
on Amazon for a reduced price of $21.99 & eligible for free ship with a purchase of $25.
Disclosure: A sample product was provided to me in exchange for my honest review. The opinions and thoughts expressed are my own. I received no other compensation for my review nor was I under any obligation to give a positive review.