I get cold easily and anywhere I go I'm always sporting a cardigan as I can put it on when cold and take it off when hot. I own quite a few cardigans and my favorite color is black as it goes with everything in my wardrobe. My cardigans do take up a lot of space in my wardrobe, but now I can stop adding to my collection as.....
Kymaro has a cardigan which allows for 50+ looks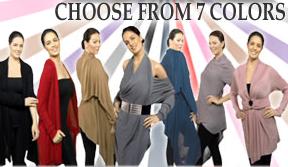 There are 7 colors (black, Grey, red, tan, pink, purple and blue) to choose from and 2 sizes (misses and plus). for my review I chose the grey colored cardigan (despite loving black..). I also received an accessory kit containing 3 Bangles in silver, gold, and black, Bow and Flower Brooch which are color coordinated to match my grey Cardi Wrap. With the package I also received a cute little style guide booklet with pictures of each of the 50 cardiwrap looks and how to achieve each look.
I liked the cardigan material as it wasn't too heavy to add extra unwanted pounds and it was lightweight to carry if hot. From the 50 looks my favorites has to be wearing it like a cardiwrap loose and for a more polished look with a thick belt.
BUY IT
With just a Twist, Wrap, Toss, or Knot, you can accentuate your best features and hide your imperfections!
Purchase your cardiwrap here for only $39.99 + $9.95 shipping and get the accessory kit for free. Plus you get a 30 day back money guarantee
Disclosure: This post was written for
Family Review Network
& Cardi Wrap who provided the complimentary product for review in exchange for my honest opinions