We have two Disney fans in our household, they have been long time fans of Mickey Mouse Clubhouse on TV and own a lot of the Disney movie collections. How wonderful that Walt Disney thought to bring Mickey and Minnie to life, so that my son and daughter can enjoy these characters together. Even at 6 and 4, my children already have ideas on male and female role movies to watch on Movie night Monday. So, instead of battling between Cars and Snow White, Mickey and Minnie is a good compromise.
On May 24th, Walt Disney Studios Home Entertainment will release Mickey Mouse Clubhouse: Mickey's Great Outdoors on DVD. We were excited to be given the opportunity to review this DVD before the general release.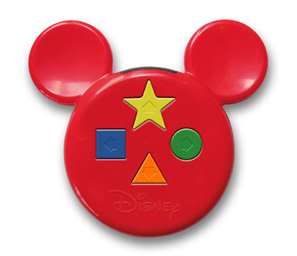 The review copy sent included the DVD, Digital copy and the exclusive Mickey Mote - a child-friendly handheld remote control, shaped like Mickey ears, that enabled my children to interact with the adventures taken by Minnie, Mickey, Donald, Goofy and Daisy. I love having digital copies as I can add this to my iphone for the kids to watch while out and about and also my laptop at home. This DVD features four episodes from the "Mickey Mouse Clubhouse" TV show plus one all-new, never-before-seen "Mickey's Fish Story" episode.
MICKEY'S GREAT OUTDOOR EPISODE LIST:
All-New, Never-Before-Seen Bonus Episode:
• Mickey's Fish Story - Daisy wants to find a fishy-friend for her goldfish Goldy – and we help her find other goldfish in the Jungle where we're aided by the mysterious conga drummin' Jungle-Pete! Boom-boom-bap-boom!
Episodes From "Mickey Mouse Clubhouse" TV Show:
• Mickey's Camp Out - Today Mickey and his friends are going to earn Clubhouse "Camp Out Badges" by completing two tasks - setting up camp and fishing for Gummy Fish. Everyone's planning to camp with a "Tent Buddy", but Donald decides to camp by himself – and he soon learns that camping with friends is much more fun than camping by yourself.
• Mickey and Minnie's Jungle Safari - Minnie is determined to snap a photo of the rare Hula Hibiscus that only blooms once a year. So the sensational gang go off on a jungle safari and explore new territory to find this legendary flower.
• Daisy in the Sky - On Balloon Day, Daisy grabs a large batch of balloons and gets literally carried away along with Minnie and Pluto, who couldn't hold her down. Mickey, Donald and Goofy kick into high gear to save their friends: they use a Giant Candy Cane (to rescue Pluto), a Party Horn (to warn animals out of the way), a Piggy Bank (to weigh down one side of an elevator so that Mickey can reach the top of the lighthouse), and a Toy Hammer (to fix the Ferris wheel).
• Daisy's Grasshopper - Daisy has a new pet grasshopper named Wilbur, but the playful hoppin' fella hops away – and we help all our Clubhouse friends hop after him and find him before the end of the day. Boing-boing!
We watched this today during a rainy spring day, when they would normally be jumping off the walls, the movie interaction with the mickey mote ensured a quiet time was had by all.
Here's a sneak peak for you
BUY IT
This DVD comes just in time for the summer for your little ones who are looking forward to venturing outside. You can pre-order a copy with the Mickey Mote here
on Amazon for a reduced price of $13.99 & eligible for free ship with a purchase of $25.
Disclosure: A sample product was provided to me in exchange for my honest review. The opinions and thoughts expressed are my own. I received no other compensation for my review nor was I under any obligation to give a positive review.