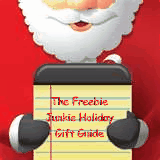 We were fortunate to be able to review a Toilet Tree Fogless Mirror last year. We have been so happy with it and have to put it on our top 10 things to buy for the house! However, I have to knock it down the list this year as ToiletTree's Deluxe Fogless Mirror is now trumping its predecessor magnificently.
ToiletTree Products has taken their Original Fogless Shower Mirror and turned it into a "Deluxe Version". This transformed mirror is now 20% larger then the Original Fogless Shower Mirror. The entire outside of the mirror is illuminated by LED lights.
The premise of the fogless mirror is that there is a reservoir where hot shower water is added. Simply lift up the mirror and place under your shower faucet to fill. The hot water will keep the mirror the same temperature as the environment in your shower which makes it scientifically impossible for your mirror to ever fog. I liked how the mirror can swivel up and down, perfect for a husband and wife who have a difference in height. Filling the mirror each shower takes 5-7 seconds. To turn LED lights "on" simply tap the button located on the right side of the mirror, tap the button once more for a lower light setting, tap a third time to turn off. This is a great wake up call when you are still half asleep in the shower.
The Fogless mirror is very well designed on many levels.
Other features include:
-Shatter proof high quality acrylic mirror
-Built in shelf to store your razor, sponge or tweezers.
-Squeegee included to wipe away excess water drops.
-Designed not to rust, discolor or damage bathroom surfaces.
-Measures 6.5in x 8.5in x 1.5in and weighs less than 1 pound
Plus 100% money back guarentee - can't go wrong with that!

My husband was pretty impressed with the Deluxe Fogless Mirror and made the remark "I guess we can keep you".

BUY IT
Surprise the man in your life with a Fogless mirror
here
- at only $49.95 + Free Shipping - its money well spent. If you have
SwagBucks
lower your out of pocket by redeeming your points for Amazon gift cards.
ToiletTree kindly offered to giveaway a Deluxe Fogless Mirror to one lucky Freebie Junkie reader!

Simply enter to win through the rafflecopter form below



Disclosure: We received the opportunity to provide a product for giveaway courtesy of Toilet Tree Products in exchange for our honest review. All opinions are of our own, others may vary.
Check out our other fabulous Holiday Gift giveaways