My husband and I are truly blessed with all that we have in our lives (our beautiful children, family & friends and good health), but we also realize we are also truly spoilt. As a child I grew up with one Cindy doll and I would spend countless hours making her clothes and designing her a lego house to live in. When I was pregnant with my son I vowed we would not spoil him with toys, he would have educational toys and books. We kind of stuck to our rule, he has the educational toys and books but then he also has the backugan's, pirate ship, lego, knex, you name it we've got it. This goes for my daughter too, she has enough naked barbies (she's at that stage where she likes taking their clothes off but fails to redress them) to host a Boston Tea Party.
But you see, for me toys are a great way to entertain the kids while I cook dinner. As a working Mom from the time I pick the kids up to when I kiss them goodnight, its a mad dash to fit in dinner, family time, bath, book and soon homework. So anything that can help entertain my little ones while I cook is alright in my book.
So my current entertainers are those little hamsters on wheels - yes those love/hate Zhu Zhu pets, these are wonderful little babysitters and so much cheaper than a regular Mother's Helper. I enjoy watching the kids try to race them against each other or try to repoint them in the right direction when they decide to take a big u turn and speed off in the opposite direction. So when they bump my toes and squeak, I remind myself that they are indeed a great toy since they don't make a mess or require feeding and so far has satisfied my childrens desire for a family pet.
My children already have the original Zhu Zhu pets and recently we acquired the cool
Kung Zhu pets
for review to my sons delight. So when we received the Rock Star Zhu Zhu package for the Blogmania review the kids were so excited to add to their collection. We received Ryder, Pax and Kingston - did you know the Rockstar Zhu Zhu pets are inspired by the children of famous celebrities such as Angelina Jolie and Gwen Stefani? I wonder if Pax has his very own name-sake pet?
My daughter poses with Pax, Ryder and Kingston
and when asked which was her favorite - she chose Pax.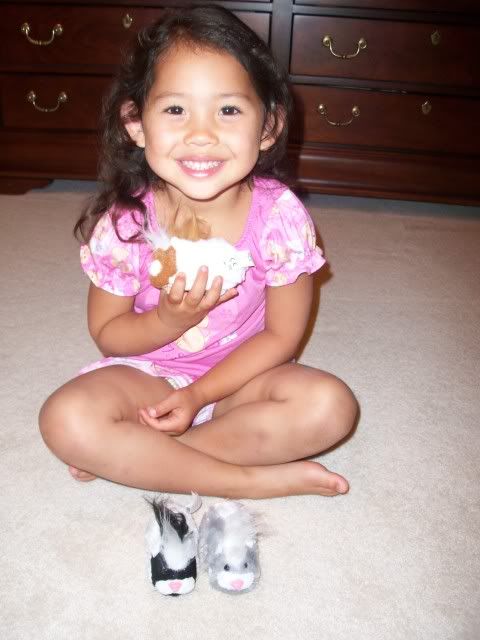 That smile is priceless who would deny a child their own little pet hamster on wheels?
I am very pleased to have Zhu Zhu Pets as a sponsor for my Blogmania event
where one lucky winner will take home their own Ryder, Pax and Kingston
All you have to do for a shot at winning is come back here September 15-16th, during Blogmania, and enter by leaving a comment on the Blogmania post, so MARK YOUR CALENDARS!
Would you like early entries to the giveaway? If so, complete any of the following:
Please note you must also enter the giveaway during the Blogmania event to validate your early entries
HOW TO ENTER
Visit
Zhu Zhu Pets
and comment below telling me which Zhu Zhu are you?
(Complete any of the following and fill out separate comments for each addictional entry)

- Follow the Freebie Junkie on Google Friend Connect
- Like me on Facebook (
Addicted to Freebies
) and make a comment that you entered the Zhu Zhu Pets early entry giveaway
-
Email subscribe
to my blog (must be activated)
- Follow me on Twitter (
Freebiealerts
)

The early entries will close on Sunday September 12th, 2010 @ 10 pm EST and resume back on September 15-16th for the full Blogmania event. Open to US residents only.

Disclosure: A sample product was provided to me in exchange for my honest review. The opinions and thoughts expressed are my own. I received no other compensation for my review nor was I under any obligation to give a positive review.