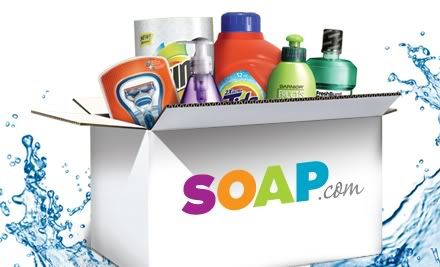 Here's my update on the half price toilet paper deal. I'm in need of stocking up on my toilet paper stash so yesterday I posted about the
Groupon Deal via Soap.com
. The Soap.com certificate came up in my Groupon account today and so this is what I brought just now:
I signed into
ebates
first to get some cashback - ebates said I'll get back between 1-5.5% - I'll update later how much I get back
Used the Groupon coupon code $20 (paid $10 via Groupon)
Could not stack with the 15% or 20% codes though ; (
Total paid incl. tax = $2.66 SHIPPED
Out of pocket = $12.66 SHIPPED
Not free but not bad - it probably costs just as much to ship such big packages! I haven't seen any toilet paper deals for a long time - my last deal was the Scotts Rite Aid deal but that stock has been depleted. I'm sure now I've stocked up I'll find a deal.
Anyhoo - for those who did not get in on this, sign up to
Groupon
as there are so many deals to be had. You can search all the different cities not just your own as many deals are for online stores and can be used by anyone.
For those who are interested in Soap.com they have a deal where you can get free shipping when you spend $25 plus try using this code to get 20% off
YYWA7286
. Note you cannot stack this code with your Groupon code. Maybe you can figure out a deal for the JnJ $10/$30 rebate for free items? : )
I would suggest signing up anyway as I had an old Groupon account that I forgot about signing up for under a different email account and I got an email the other day that they were giving me a code for $10 off my first Groupon purchase. So in this account I'm getting completely free toiletries as I went in on the soap.com toiletries too - yay!!!