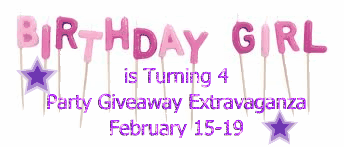 My daughter turned 4 recently and it inspired me to write a post on how I made this a budget friendly and fun event for everyone. Birthday parties can be an expensive affair, with careful planning you can have your cake and eat it.
Theme -
My daughter loves Princesses, she's dressed up as Snow White for Halloween for 2 years in a row and last year she dressed as Belle. So it was only fitting to plan her party around the theme of Princess Belle as we already had the costume. Since I knew Princess birthday parties were in our future for quite some time I had been scouting the Target dollar section all year for Princess related items and I also checked the clearance sections as old Princess designs get marked down to make way for new designs.
Location Location Location -
We typically hold our parties at home to cut costs. We have a basement with a kids section full of toys and a bar area for the adults. However, for my daughter's party we decided to host it at the local icecream store (
Chubby's Dairy Barn
). Jesse at Chubby's is a good friend of ours and Chubby's hosts parties for free, all you pay is the cost of the icecream. This fit perfectly in with our budget and who doesn't like icecream. I also loved that I could bring my own food and drink in. There's nothing more annoying than being stuck with paying a $1 per juice box - thats extortion! Chubby's does an outstanding job at making you feel welcomed and Jesse loves hosting parties so head to Chubby's for some delicious icecream and ambience.
Guest List -
Since this was a Princess party, I had an excuse to exclude the boys from my daughter's class list of 15. When you factor in 15+ kids and the parents thats a whole lot of people to feed, plus my daughter didn't want the boys to come anyway LOL. We ended up with 10 children including my two which was a much more manageable number. My husband is the last of 6 kids so we invited family to a separate party after the kids party back at our house. This enabled family to relax and my daughter was able to spend quality time with them.
Party Food -
For the kids party I ordered in pizza from the local pizzeria and brought in my own juice boxes, water and soda. Of course coupons were used to score the drinks. For the family party I made BBQ pulled pork and served them on buns with sides such as coleslaw and mac n cheese. I made my pulled pork in a crock pot the night before and its just so simple yet very cost effective and delicious when feeding a lot of people.
Cake -
I have a lot of cupcake mixes in my pantry, all free from using coupons, so it was time to make a dent. The
Snapware Cupcake Storage Carrier
is a wonderful
invention, if you are a cupcake Mom like me. I purchased the
Wilton 13 Count Cupcake Stand
to display my cupcakes and
T and Little S Designs
kindly provided me some Belle cupcake toppers to complete my cupcake display.
Party Favors -
I came across these cute pink colored bags when the Target dollar section had these marked at 75% off. I knew I'd use them either for Valentine's day or a Princess party. My daughter and I spent the Saturday before her party decorating them with her friends names. I found the pom poms and foam alphabets in the Target dollar section. We then filled it with candy and princess related items. This was a fun weekend project for us and enabled us to spend some quality time together too.
Entertainment -
Box Creations
kindly provided a
Princess castle
for review and I must say the castle was the highlight of the party. The kids enjoyed hanging inside the castle and drawing on it and I've never seen such a quiet party with that many 4-6 year olds.
The Princess castle kept them occupied throughout the party and they only surfaced to scream for icecream. Keep an eye out for a deal on the
daily deal sites
as I saw these go for as low as $5 and most recently
$20
plus shipping. The castle held up very well and now sits in the basement play area and is often frequented by my children.
Now for the Party Giveaway Extravaganza
The review and giveaway event starts tommorow until Saturday, keep checking back each day as the following sponsors have provided some fun products for us to check out with great coupon codes and giveaways being offered too.
Click on each logo to find out all about these wonderful sponsors